Today I've prepared an interesting tutorial for you! We are going to make a quilted 'Pumpkin' lunch mat! The finished size is 49 x 34 cm.
Сегодня мы с вами будем учиться шить ланчмат-салфетку на стол в технике пэчворк. Я всё подробно и по пунктам расскажу и покажу, поэтому, думаю, что сделать такую салфетку сможет любой желающий, кто хоть немного умеет шить на машинке.
Размер салфетки 49 х 34 см.
You need:
a piece of grey or beige cotton or linen 25 x 25 cm for the central part

cotton fabric scraps of different colors for 21 squares 6 x 6 cm each

30 x 40 cm of cotton fabric for 4 stripes that are located around the central square

55 x20 cm of cotton fabric for the binding

small pieces of orange, green and yellow for the pumpkin applique

55 x 40 cm of cotton patchwork batting of fleece

55 x 40 cm of cotton for the lining
Note:
All seams should be 0.5 cm. Seam allowance is included (except in the applique).
1) Cut all the details like on the picture below.
You have totally 21 small square. Make 3 stripes of 7 squares (6x6cm). Sew the stripes together. Iron it.
❤
Нам понадобится:
кусочек льна или однотонного хлопка 25 х 25 см.

обрезки хлопка разного цвета (бежевого, оранжевого, красного, жёлтого, бордового и т.д.) - Из них мы вырежем 21 квадратик размером 6 х 6 см.

ещё кусочек хлопка примерно 30 х 40 см. - для 4-х полосок вокруг центрального квадрата

хлопок для окантовки (55 х 20 см будет достаточно)

немного обрезков оранжевого, зелёного и жёлтого цвета для тыквы аппликации

Наполнитель для пэчворка - это такая мягкая штука в рулоне (я использовала хлопковый) Можно заменить на флис! Отреза 55 х 40 см будет достаточно.

Бязь для обратной стороны салфетки 55 х 40 см.
Все припуски на швы уже включены в размеры. Только в аппликации нужно добавить 0,5 см на подгиб.

Для лицевой стороны я использовала американских хлопок, который продаётся отрезами 55 х 50 см, а также серый лён (центральный серый квадрат)

Для изнаночной стороны я использовала обыкновенную Российскую бязь. Она гораздо дешевле, и зачем переводить хорошую ткань! :)

Размеры отрезов ткани для изнанки и наполнителя я указала чуть больше размера салфетки, на всякий случай.
1) Вырезаем нужные детали. Размеры указаны в см.
- Затем сшиваем полоски из разноцветных квадратиков, проглаживаем утюгом все швы. Всего 3 полосы по 7 квадратов, итого 21 квадрат.
- Сшиваем эти три полосы вместе. Опять проглаживаем утюгом.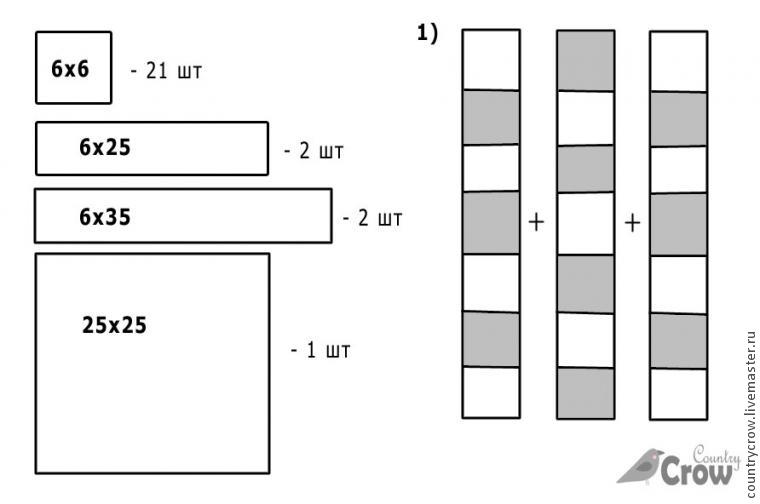 2) Sew 2 stripes to the big square. Then sew 2 more. Iron it.
❤
2) К квадрату 25 х25 см пришиваем сверху и снизу 2 полосы по 6 х 25 см. Проглаживаем швы.
- Затем пришиваем оставшиеся 2 полосы 6 х 35 см слева и справа. Проглаживаем швы.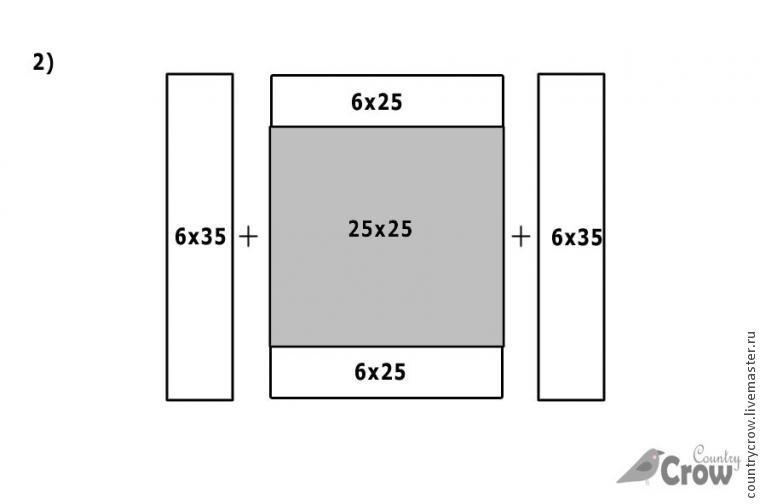 3) Sew 2 parts of lunch mat together. Iron it.
❤
3) Сшиваем 2 части салфетки. Проглаживаем утюгом.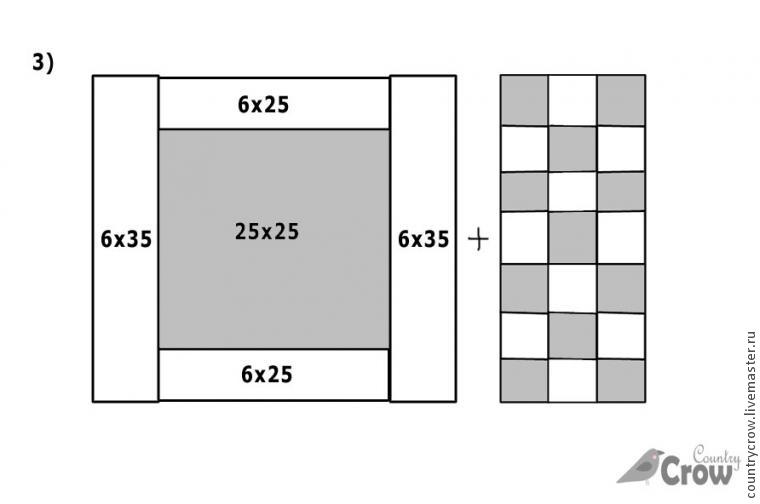 4) Put facing, batting and lining together. Pin them together.
❤
4)
Складываем вместе 3 слоя - лицевой, наполнитель и изнанку. Закалываем всё булавками.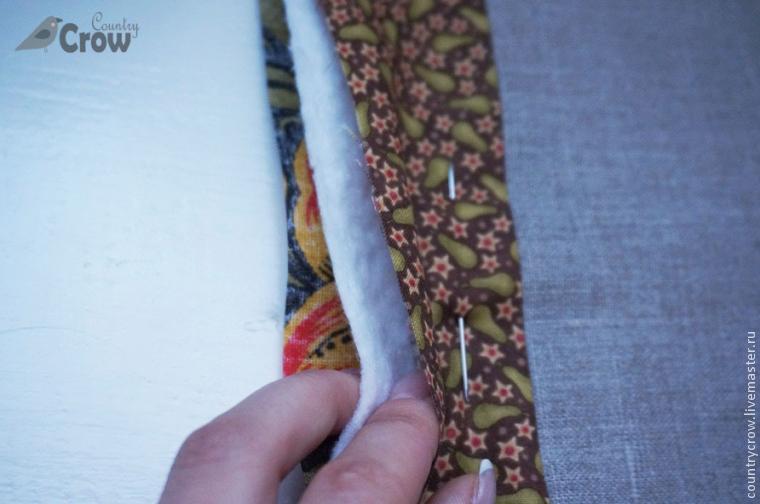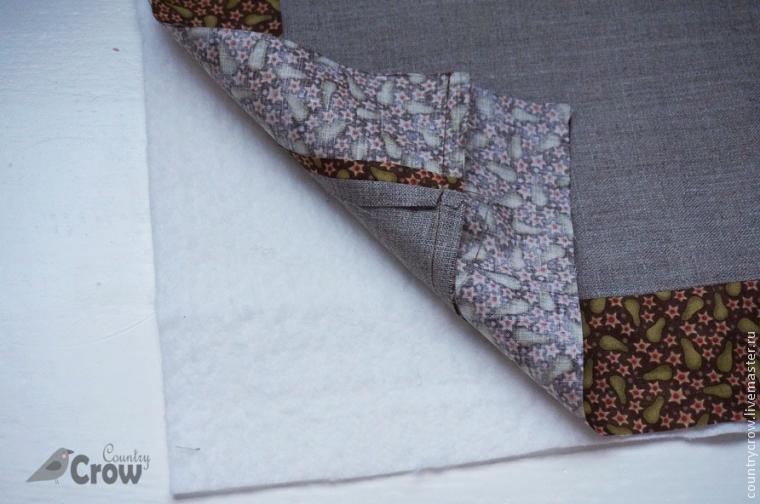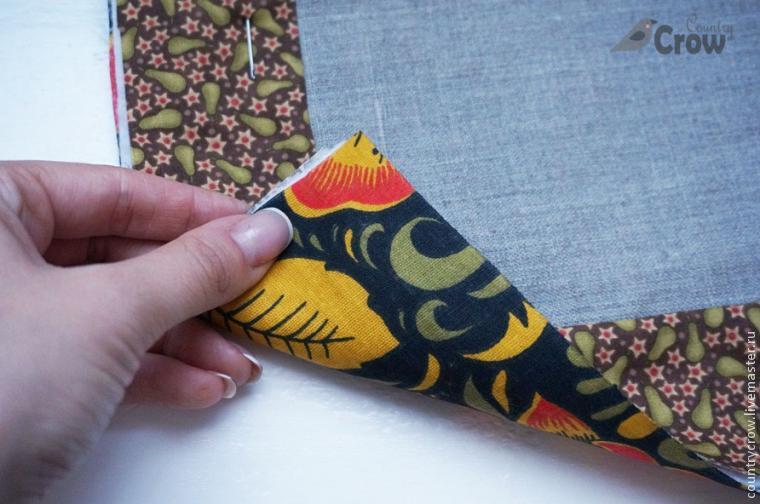 5) Stitch the layers together as you wish. Sew the sides together. Then cut all the unnecessary fabric from the sides. Make then straight and even.
❤
5) Делаем машинную стежку. Использовать можно любой имеющийся узор, типа "мозги", либо просто прошить прямыми линиями. У меня

мозгов нет

нет узора "мозги", потому что машинка совсем простая. :) Поэтому я просто прошила по диагоналям и по контурам соединения ткани.
Также вконце прошейте по всем краям, где-то 0,4 см от края, чтоб соединить края всех слоёв.
И ещё, важное наблюдение! Не обрезайте сразу все три слоя под один размер верхнего. Пусть нижние два будут на пару см. больше. Иначе, если при стежке слои сместятся, у вас будут неровные края.
Ну и когда все слои сшиты, можно обрезать лишнюю ткань и сделать ровные стороны.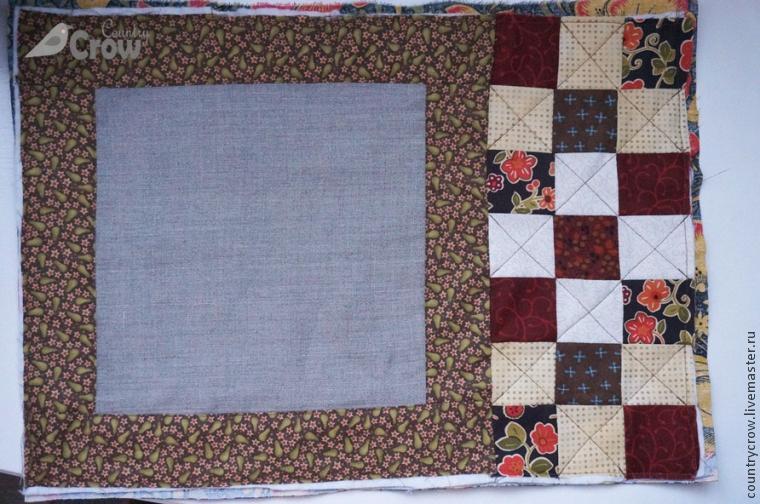 6) Cut 4 stripes 4 cm wide for the binding. They should be 2 cm longer than the sides. Iron them like on the photo.
❤
6) Теперь нужно приготовить окантовку. Делать будем по принципу косой бейки. Для этого измерьте стороны своей салфетки и вырежьте 4 полосы шириной около 4 см и длиной равной длине сторон + 2 см
Отутюжьте полоски вот так: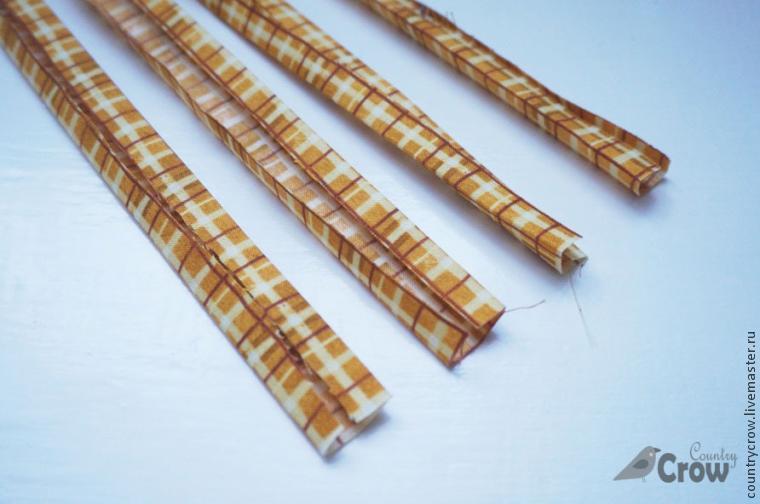 7) Sew the binding to the lunch mat. (left and right sides first, and then top and bottom)
❤
7) Пришиваем окантовку как косую бейку. Сначала к изнанке, затем загибаем на лицевую. Сначала левую и правую, затем верхнюю и нижнюю полоски.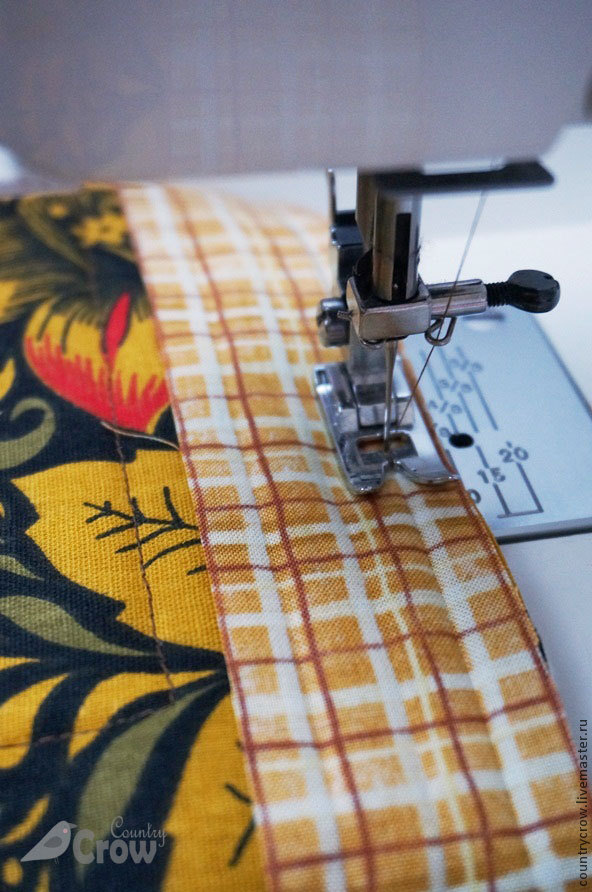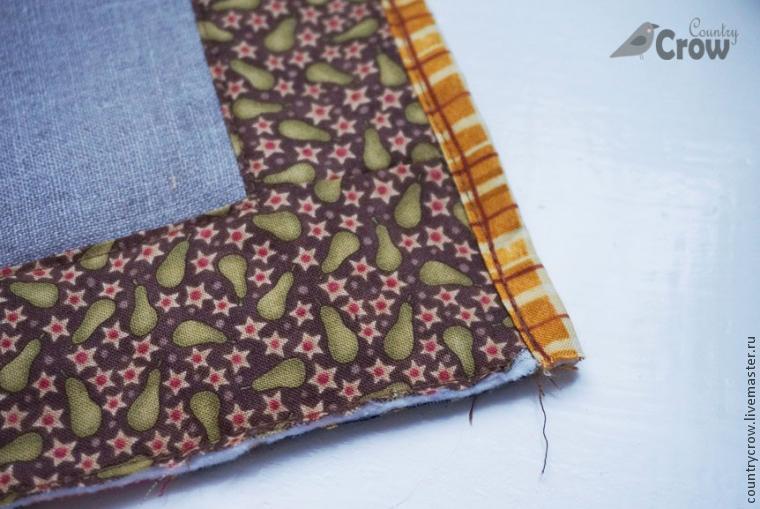 Край загибаем у верхней и нижней полосок поверх левой и правой.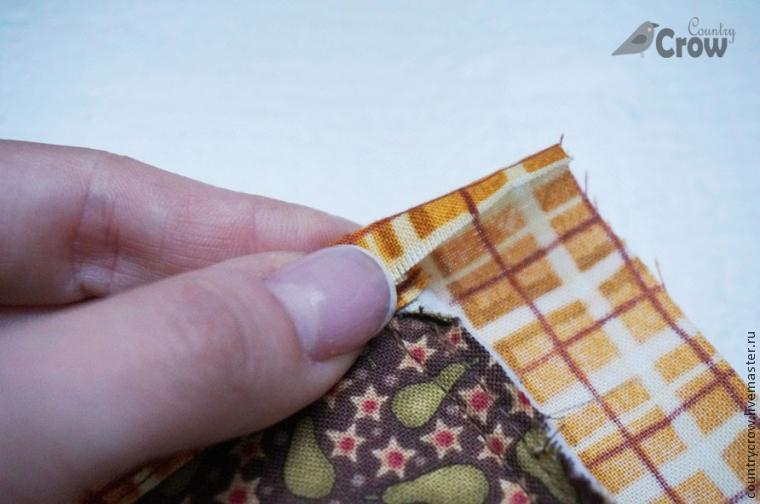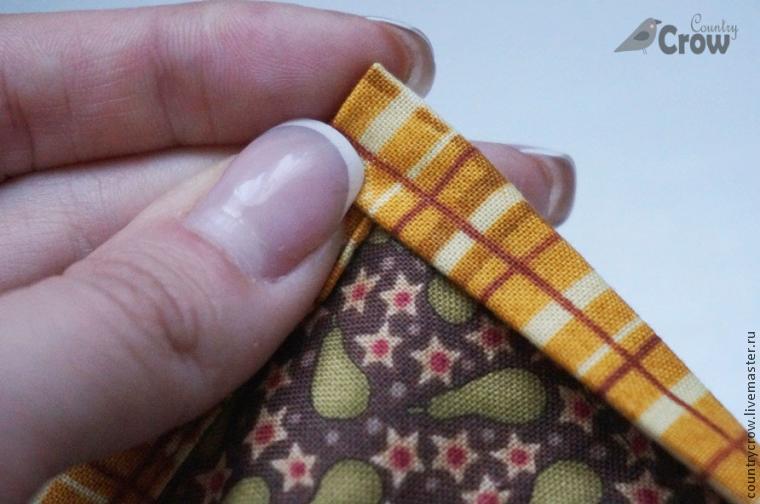 8) This is what you should get. (I made 2 lunch mats).
❤
8) Вот что у нас получилось: (Я делала сразу две салфеточки).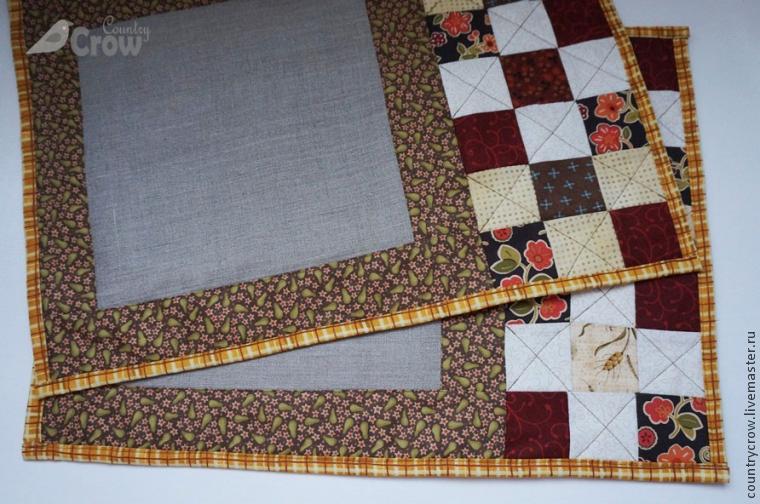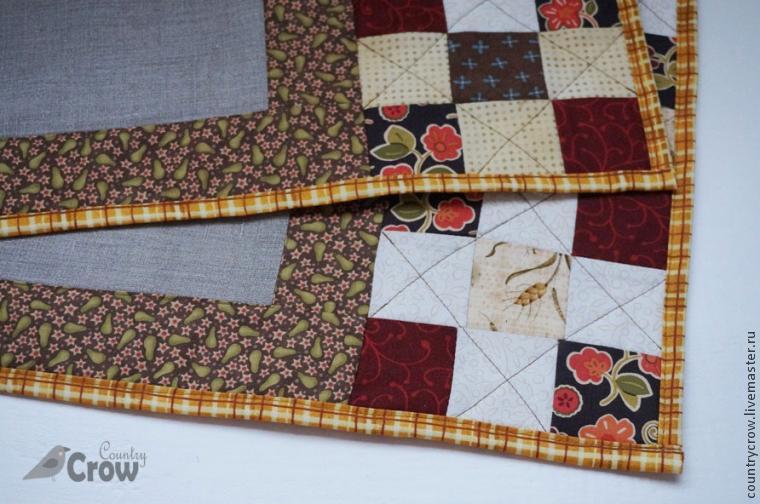 9) Now we make a pumpkin applique. Save the pattern to your computer and open it in any photo editing program. Zoom it to be correct size. You can measure it right on the screen. (The size is written on the pattern).
Then place a piece of paper on the screen and trace the pattern. Make sure it is correct size. Then cut it out.
❤
9) Теперь будем делать аппликацию тыкву.
Ниже есть выкройка.
Скачайте её себе. Откройте в любом редакторе или программе для просмотра изображений.
Увеличьте масштаб до нужного. Это легко сделать, приложив линейку к экрану и измерив детальки. (Там размер деталек подписан).
Затем просто обрисуйте детальки на лист, приложив его к экрану. Только проверьте, чтоб размер был правильный!
10) Cut 1 of each part. Add 0.5 cm for folding.
❤
10) Вырезаем выкройку. Вырезаем из ткани по одной каждой детальки, прибавив 0,5 см на подгиб.
11) Fold the sides with the iron.
❤
11) Делаем несколько надрезов на изгибах. Подгибаем края утюгом.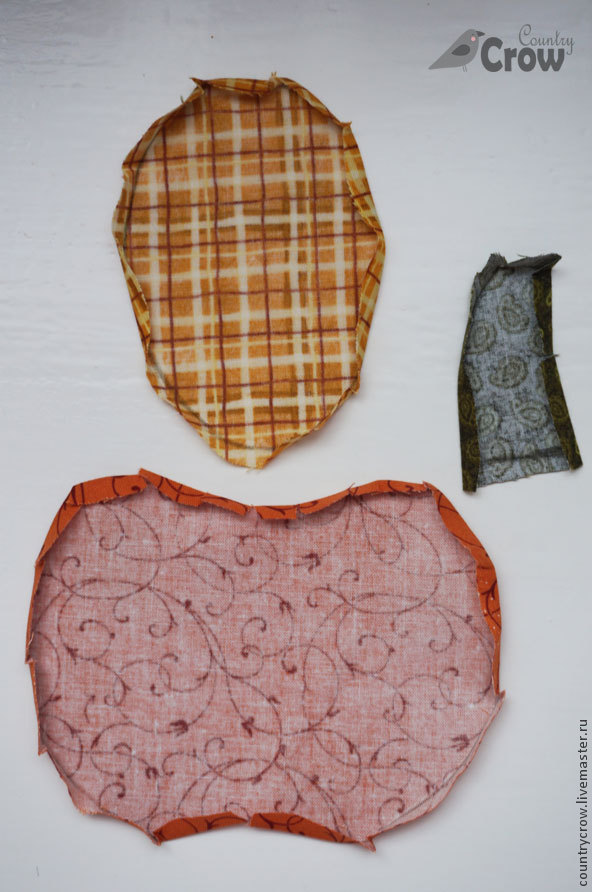 12) Pin the applique.
❤
12) Прикалываем булавками все детальки вместе на нужное место.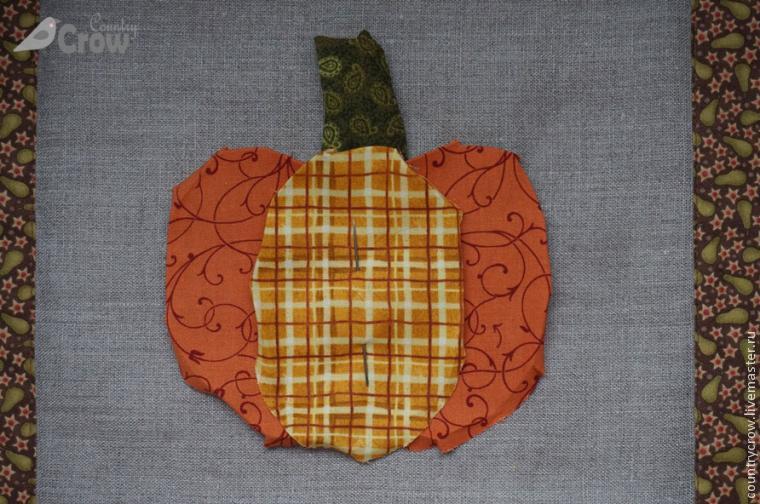 13) Stitch it to the lunch mat.
❤
13) Пришиваем вручную потайным или любым другим швом. (Наверное, можно пришить и на машинке).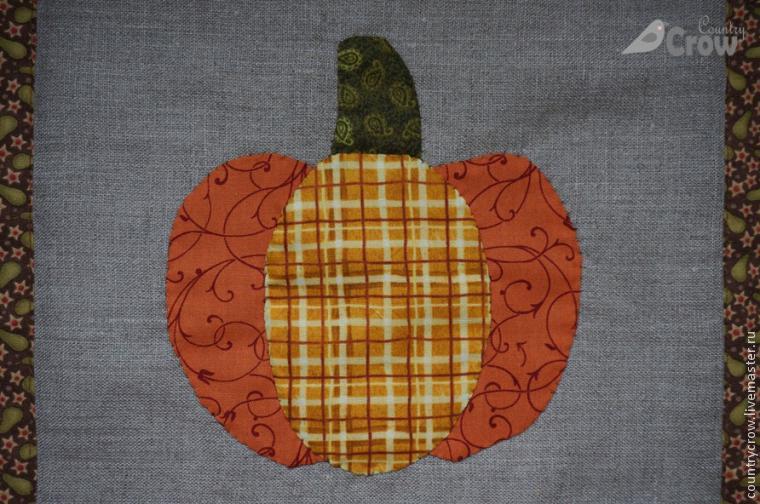 14) I also added some curved lines with my sewing machine.
❤
14) Ещё можно добавить вот такие завитушки - как усики у настоящей тыквы. Это уже на машинке.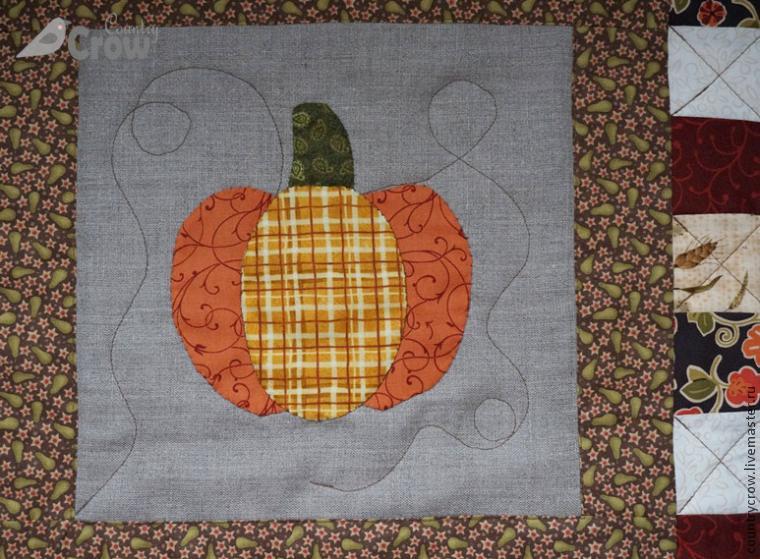 15) I made a small bow of twine and sewed it to the pumpkin.
❤
15) Я ещё вот такой бантик из шпагата пришила :)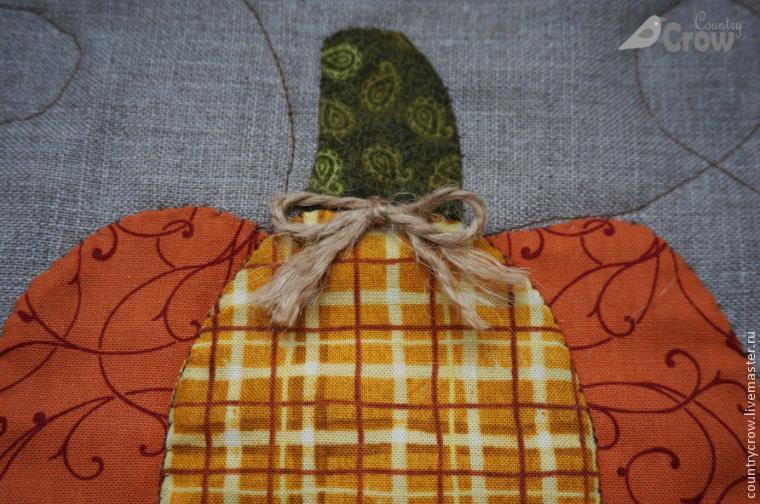 16) You are done! Your lunch mat is ready! This lunch mat can make a nice fall home decoration and a great gift for your family and friends!
❤
16) Вот и всё! Наша осенняя салфетка-ланчмат готова!
Такая салфетка отлично украсит ваш обеденный стол, а может даже и поселится в другой комнате, в качестве украшения!
P.S. Мой муж когда увидел, сказал, что на таком жалко есть! И мне тоже жалко! :))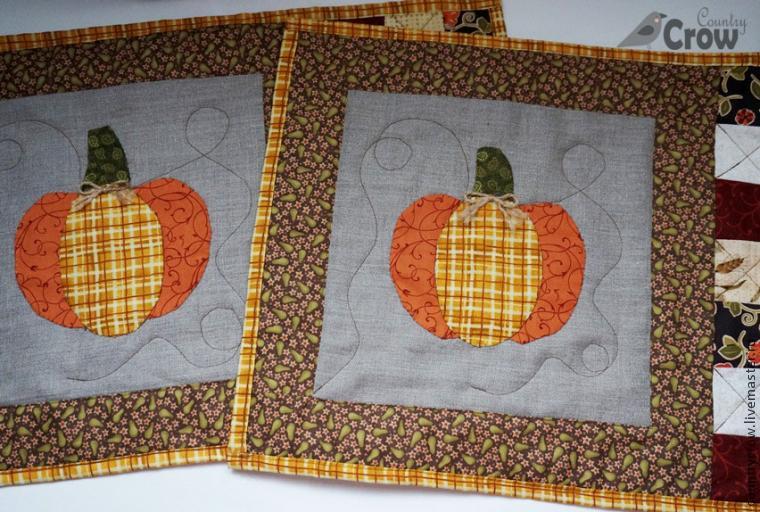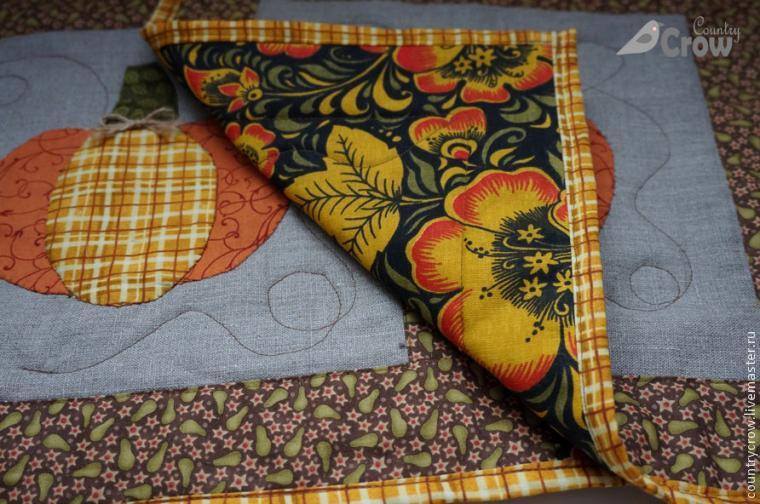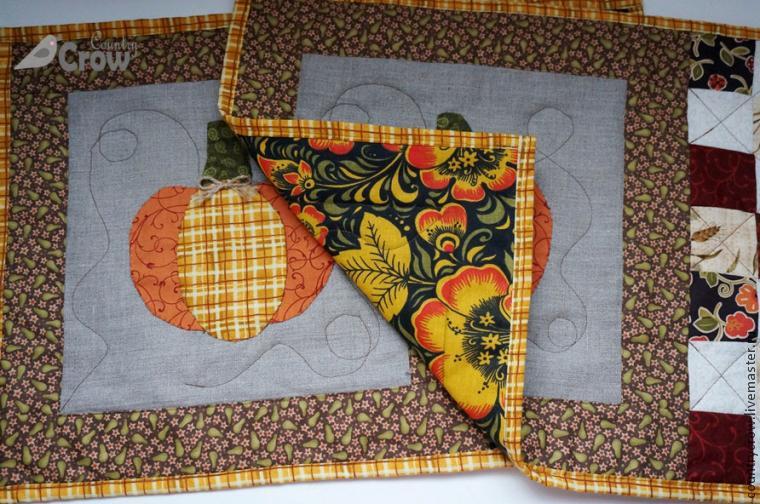 Thank you for visiting my blog! Come back soon for new interesting ideas! :)
❤
Спасибо за внимание! Надеюсь, что вам понравилось, и что многие сделают себе такие милые ланчматики! )))